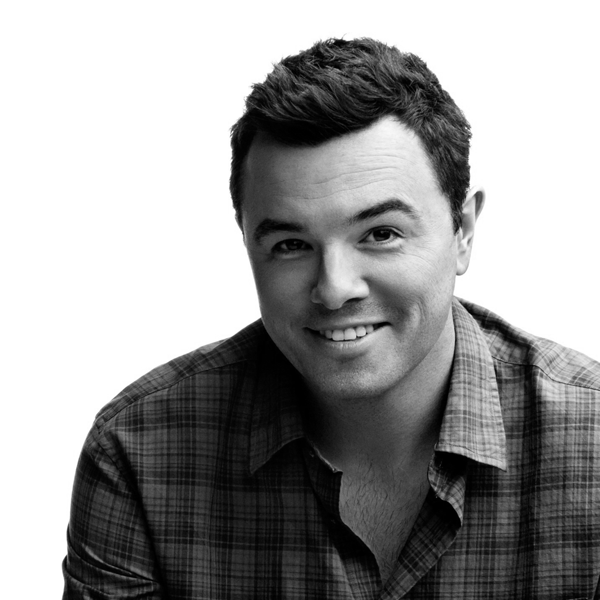 Seth MacFarlane
Credits: Founder/CEO, Fuzzy Door
SETH MACFARLANE became the youngest showrunner in television history at 24 when his animated series Family Guy aired on Fox. The show has garnered MacFarlane numerous nominations and five Emmy Awards. He also serves as co-creator, EP and voice actor on American Dad!.
Through his production company, Fuzzy Door, MacFarlane created and currently stars in Hulu's Emmy-nominated, live-action, space adventure series, The Orville, premiering its third season on June 2.
On the feature side, he wrote and directed Ted, Ted 2, and A Million Ways to Die in the West, which has collectively grossed $800M+ at the worldwide box office.
MacFarlane most recently produced Hulu's Books of Blood and is developing a reimagined modern version of Revenge of the Nerds with the Lucas Bros. for 20th Century Studios.
MacFarlane and Fuzzy Door currently have a multi-year television deal with Universal Studio Group. Under the pact, he is in pre-production on Peacock's Ted TV series, which he is writing, producing, directing, and reprising the voice of the iconic foul-mouthed teddy bear for all episodes.
He is also EP'ing Peacock's disaster science series The End Is Nye hosted by Bill Nye, The Winds of War, an Untitled Little Rock Nine series, the All Our Wrong Todays TV adaptation, Peacock's dystopian sci-fi short film Skywatch, and Netflix's animated take on Norman Lear's Good Times.
Previously, he executive produced the 13-Emmy-nominated Cosmos: A Space Time Odyssey, and the recent installment Cosmos: Possible Worlds.
As an actor, MacFarlane appeared in Showtime's Golden Globe-nominated The Loudest Voice, Illumination's animated family musical Sing, and Steven Soderbergh's Logan Lucky.
A multi-hyphenate, MacFarlane is a five-time Grammy-nominated vocalist. His seventh studio album, Blue Skies released on May 20, and his previous albums garnered several number one spots on the iTunes Jazz Charts.
MacFarlane previously hosted the 85th Academy Awards – where he was nominated for "Best Original Song" for Ted – and Saturday Night Live.
All Sessions By Seth MacFarlane
A Conversation with Seth MacFarlane & Erica Huggins
Sunday, June 12, 2022
11:30 AM – 12:30 PM