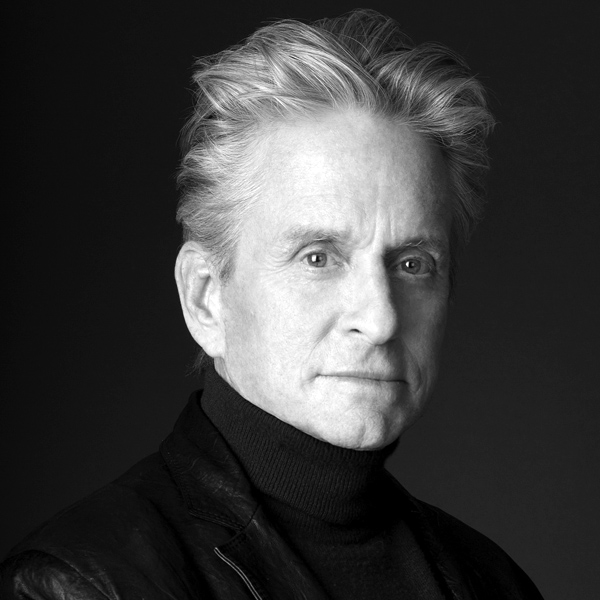 Michael Douglas
Credits: The Kominsky Method
An actor with fifty years of experience in theatre, film and television, MICHAEL DOUGLAS branched out into independent feature production in 1975 with the Academy Award-winning One Flew Over the Cuckoo's Nest (1975). Since then, as a producer and as an actor-producer, he has shown an uncanny knack for choosing projects that reflect changing trends and public concerns.
Over the years, he has been involved in such controversial and politically influential motion pictures as One Flew Over the Cuckoo's Nest, The China Syndrome (1979) and Traffic (2000), as well as such popular films as Romancing the Stone (1984) and Fatal Attraction (1987).
The son of Kirk and Diana Douglas, Michael was born in New Jersey. He spent his summers with his father on movie sets. After receiving his B.A. degree from the University of California, Santa Barbara, Douglas moved to New York City to continue his dramatic training at the American Place Theatre with Wynn Handman and at the Neighborhood Playhouse. A few months after he arrived in New York, Douglas got his first big break when he was cast in the pivotal role of the free-spirited scientist who compromises his liberal views to accept a lucrative job with a high-tech chemical corporation in the CBS Playhouse production of Ellen M. Violett's drama, The Experiment, which was televised nationwide on February 25, 1969. Douglas' convincing portrayal won him the leading role in the adaptation of John Weston's controversial novel, Hail, Hero! (1969), which was the initial project of CBS' newly organized theatrical film production company, Cinema Center Films. Douglas starred as a well-meaning, almost saintly, young pacifist determined to not only justify his beliefs to his conservative parents but also test them under fire in the jungles of Indochina.
In between film assignments, he worked in summer stock and off-Broadway productions, among them: City Scenes, Frank Gagliano's surrealistic vignettes of contemporary life in New York; John Patrick Shanley's short-lived romance Love is a Time of Day; and George Tabori's Pinkville, in which he played a young innocent brutalized by his military training. He also appeared in the made-for-television thriller, When Michael Calls, broadcast by ABC-TV on February 5, 1972 and in episodes of the popular series Medical Center and The FBI.
Impressed by Douglas' performance in a segment of  The FBI, producer Quinn Martin signed the actor to the part of Karl Malden's sidekick in the police series The Streets of San Francisco, which premiered September of 1972 and became one of ABC's highest-rated prime-time programs in the mid-1970s. Douglas earned three successive Emmy Award nominations for his performance and he directed two episodes of the series.
During the annual breaks in the shooting schedule for The Streets of San Francisco, Douglas devoted most of his time to his film production company, Big Stick Productions, Ltd., which produced several short subjects in the early 1970s. Long interested in producing a film version of KenKesey's grimly humorous novel One Flew Over the Cuckoo's Nest, Douglas purchased the movie rights from his father and began looking for financial backing. After a number of major motion picture studios turned him down, Douglas formed a partnership with Saul Zaentz, a record industry executive, and the two set about recruiting the cast and crew. Douglas still had a year to go on his contract for The Streets of San Francisco, but the producers agreed to write his character out of the story so that he could concentrate on filming Cuckoo's Nest. A critical and commercial success, One Flew Over the Cuckoo's Nest won five Academy Awards, including Best Picture, Best Director, Best Screenplay, Best Actor and Best Actress, and went on to gross more than $180 million at the box office.
Douglas suddenly found himself in demand as an independent producer, and one of the many scripts submitted to him for consideration was Mike Gray's chilling account of the attempted cover-up of an accident at a nuclear power plant. Attracted by the combination of social relevance and suspense, Douglas immediately bought the property. Deemed not commercial by most investors, Douglas teamed up with Jane Fonda and her own motion picture production company, IPC Films. A Michael Douglas-IPC Films co-production, The China Syndrome (1979) starred Jack Lemmon, Jane Fonda and Michael Douglas, and received Academy Award nominations for Lemmon and Fonda as well as for Best Screenplay.  The National Board of Review named the film one of the best films of the year.
Douglas' career as an actor/producer came together again in 1984 with the release of the tongue-in-cheek romantic fantasy Romancing the Stone. Douglas had begun developing the project several years earlier, and with Kathleen Turner as Joan Wilder, the dowdy writer of gothic romances, Danny DeVito as the feisty comic foil Ralphie and Douglas as Jack Colton, the reluctant soldier of fortune, Romancing was a resounding hit and grossed more than $100 million at the box office. Douglas was named Producer of the Year in 1984 by the National Association of Theater Owners. A sequel Jewel of the Nile followed in 1986.
Douglas starred in two of 1987's biggest hits. He starred opposite Glenn Close in the phenomenally successful psychological thriller, Fatal Attraction, which was followed by his performance as ruthless corporate raider Gordon Gekko in Oliver Stone's Wall Street, earning him the Academy Award for Best Actor. Douglas reunited for the third time with Kathleen Turner and Danny DeVito in the black comedy The War of the Roses in 1989 and in 1990 produced Flatliners with Julia Roberts and Keifer Sutherland.
In 1992, he starred with Sharon Stone in the erotic thriller from Paul Verhoeven Basic Instinct, one of the year's top grossing films.
Douglas created Douglas/Reuther Productions with partner Steven Reuther in May 1994. The company, under the banner of Constellation Films, produced, The Ghost and the Darkness (1996), starring Douglas and Val Kilmer, and John Grisham's The Rainmaker (1997), based on Grisham's best selling novel and directed by Francis Ford Coppola and John Woo's popular thriller Face/Off (1997).
In 1998, Michael Douglas starred with Gwyneth Paltrow and Viggo Mortensen in the mystery thriller A Perfect Murder, and formed a new production company, Furthur Films. Two years later Wonder Boys opened in February to much critical acclaim. Douglas starred in the film as troubled college professor Grady Tripp. He was nominated for a Golden Globe and a BAFTA Film award for his performance.
Traffic was released nationwide by USA Films in January 2001. Douglas played the role of Robert Wakefield, a newly appointed drug czar confronted by the drug war both at home and abroad. Directed by Steven Soderbergh and co-starring Don Cheadle, Benedico Del Toro and Catherine Zeta-Jones, Traffic was named Best Picture by New York Film Critics, won Best Ensemble Cast at the SAG Awards, won four Academy Awards (Best Screenplay, Best Editing, Best Director, and Best Supporting Actor for Benicio del Toro) and has been recognized on over 175 top ten lists.
In 2004 Douglas, along with his father Kirk, filmed the intimate HBO documentary A Father, A Son… Once Upon a Time in Hollywood. Directed by award-winning filmmaker Lee Grant, the documentary examines the professional and personal lives of both men, and the impacts they each have made on the motion picture industry.
Behind the Candelabra, based on the life of musical 1970s/80s icon Liberace and his partner Scott Thorson, directed by Steven Soderbergh and co-starring Matt Damon, premiered on HBO in May 2013. Douglas won an Emmy, Golden Globe and SAG Award as Best Actor in a television movie or mini series for his performance as the famed entertainer.
In his first venture into the realm of comic book action adventure, Douglas portrayed Dr. Hank Pym in Marvel's Ant Man opposite Paul Rudd (2015). In 2018, Douglas again entered the Marvel Universe reprising his role of Dr. Hank Pym in Ant Man and the Wasp.
2018 also marked his return to television in Chuck Lorre's Netflix series The Kominsky Method, co-starring Alan Arkin, for which he won a Golden Globe as Best Actor in a Comedy series. He has just finished shooting a second season.
In 1998, Douglas was made a United Nations Messenger of Peace by Kofi Annan. His main concentrations are nuclear non-proliferation and the control of small arms. Michael Douglas was recipient of the 2009 AFI Lifetime Achievement as well as the Producers Guild Award that year. In Spring 2010 he received the New York Film Society's Charlie Chaplin Award. In 2011 Douglas was awarded the "Chevalier de Arts et des Lettres" in France by Frederick Mitterand, and he was awarded a second French Cesar for Career Achievement in 2016, becoming the only American to be given this honor twice.
Douglas is married to Catherine Zeta-Jones. The couple has one son, Dylan, and one daughter, Carys. Douglas also has one son, Cameron, from a previous marriage.
All Sessions By Michael Douglas
Conversation With: Michael Douglas and Danny DeVito
Saturday, June 8, 2019
11:15 AM – 12:30 PM