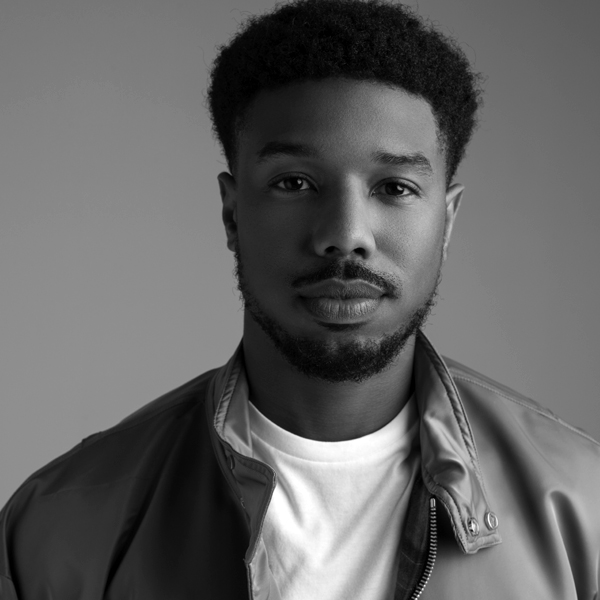 Michael B. Jordan
Credits: Principal, Outlier Society Productions; Black Panther, Creed Franchise
The year 2018 was a groundbreaking one for actor/producer MICHAEL B. JORDAN who starred in two record-breaking critical and box office successes: Black Panther as Erik Killmonger, and Creed II reprising his role as Adonis Creed. In the former, Jordan won a 2019 SAG Award as part of Black Panther's 'Best Ensemble' following critical acclaim for his multi-dimensional portrayal of the tormented Erik Killmonger.
Starring opposite Chadwick Boseman as Black Panther, Jordan was joined by the diverse, multicultural cast in the groundbreaking film. The film recorded the fifth biggest opening weekend of all time with $202 million, has grossed over $1.3 billion worldwide to date and has been hailed for its positive futuristic vision of Africa and its cultural and societal relevance.
Creed II also broke box office records as the highest-grossing live-action film to ever open on Thanksgiving Weekend, solidifying Jordan's leading man status.
In 2015, Jordan starred in MGM and Warner Bros.' Creed alongside Sylvester Stallone and Tessa Thompson. For his performance directed by Coogler, Jordan garnered numerous accolades including the NAACP Image Award for Outstanding Actor in a Motion Picture and the NAACP's Entertainer of the Year Award.
Last fall, Jordan wrapped production on the upcoming Warner Bros. legal drama Just Mercy, directed by Destin Crettin. Based on the book Just Mercy: A Story of Justice and Redemption, Jordan will play Bryan Stevenson, a gifted young lawyer who defends the most vulnerable in our country and his fight for equal justice in a flawed legal system.
In September 2018, it was announced that Jordan had partnered with Warner Media on the creation of a company-wide inclusion policy – a first of its kind – and that Just Mercy would be the first production under the new policy.
Next up, he will star in Journal For Jordan, Sony Pictures' adaptation of Pulitzer-winning journalist Dana Cadendy's bestselling memoir; Warner Bros' age-less man thriller Methusaleh; Twentieth Century Fox's A Bittersweet Life, an action-thriller remake of the cult classic 2005 Korean film; The Silver Bear, Lionsgate's film adaptation of the book series by Derek Haas; and will re team with Coogler in Wrong Answer, which follows the true story of how Atlanta high school educators participated in an intricate, systemic standardized-test cheating scandal in 2013.
Jordan garnered industry-wide attention for his breakout role in Fruitvale Station, which won the Grand Jury Prize and Audience Award at Sundance Film Festival in 2013 among other accolades that year. The film, which marked his first collaboration with Coogler, is an account of Oscar Grant's controversial slaying by police officers on a San Francisco train platform. For his performance as Oscar, Jordan took home the award for Breakthrough Actor at the 2013 National Board of Review Awards, the 2013 Gotham Award for Breakthrough Actor and was nominated for an Independent Spirit Award for Best Lead Actor.
In 2016, Jordan launched his own production company, Outlier Society Productions, and was one of the first companies to publicly adopt the inclusion rider. Earlier this year, Jordan and Outlier Society inked a first look film deal with Warner Bros Studios and a first look television deal with Amazon Studios.
Under the helm of President of Production Alana Mayo, Outlier Society has co-produced the Emmy-nominated HBO Films' adaptation of Fahrenheit 451, which netted Jordan a Producers Guild Award.
Their forthcoming projects include an untitled original monster movie from Kong: Skull Island filmmaker Jordan Vogt-Roberts; an adaption of the popular fantasy novel Black Leopard, Red Wolf; WW II action drama The Liberators; 61st Street for AMC; the sci-fi hour-long series Raising Dion; and the OWN drama series David Makes Man from Oscar-winning Moonlight co-writer Tarell Alvin McCraney.
His previous film credits include Twentieth Century Fox's Fantastic Four, Twentieth Century Fox's box office hit Chronicle, Focus Films'  That Awkward Moment and the George Lucas produced film Redtails.
Jordan also starred in three of television's most critically acclaimed shows of all time – HBO's dramatic hit series The Wire and NBC's Friday Night Lights and Parenthood.
Jordan is currently engaged in branding partnerships with Coach, Nike, Piaget, AT&T, Brisk Creators Classic and Marvel Contest of Champions. He is also the voice of Acura.
Jordan is actively involved with Lupus LA, which raises awareness and funds for local Los Angeles Lupus patient programs, local rheumatology fellowships and research projects for their national research partner, the Lupus Research Alliance.
Jordan was born in Santa Ana, California and raised in Newark, New Jersey to parents Donna and Michael A. Jordan. He currently resides in Los Angeles.
All Sessions By Michael B. Jordan
Content With A Conscious
Saturday, June 8, 2019
11:15 AM – 12:30 PM