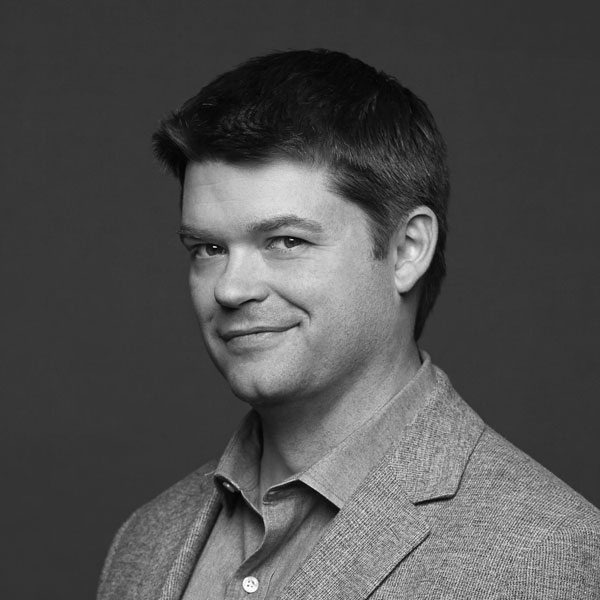 Chris Miller
Credits: Spider-Man: Into the Spider-Verse, The Lego Movie
CHRIS MILLER is the Academy Award-winning and Emmy-nominated multi-hyphenate writer, director, and producer behind some of today's most successful films and television series, including Spider-Man: Into the Spider-Verse, The Lego Movie, The Mitchells vs. The Machines, 21 & 22 Jump Street, Cloudy with a Chance of Meatballs, The Afterparty, and Clone High.
Known for his unique sensibilities and maverick mindset, Miller and his creative partner Phil Lord have spent their careers pushing the boundaries of creativity to deliver fresh, unexpected perspectives with each of their projects.
On the features side, Miller and Lord most recently produced the Academy Award-nominated feature, The Mitchells Vs. The Machines which premiered in April 2021 on Netflix. Currently sitting at a 98% on Rotten Tomatoes, the film has been hailed as one of the best animated features of 2021 and has been recognized for its unique visual style. It went on to become Netflix's biggest animated film to date and was nominated for an Academy Award this year for Best Animated Feature Film.
In 2018, Miller won the Academy Award alongside Lord for the animated feature Spider-Man: Into the Spider-Verse. The film, which Miller produced with Lord, offers a fresh take on the Spider-Man Universe by shifting the focus of the story to the lesser-known man behind the mask, Miles Morales. It opened to an unheard-of 100% on Rotten Tomatoes and was praised by critics for its groundbreaking visuals that brought comic book illustrations to life in an unprecedented way. The film won the Academy Award and Golden Globe Award for "Best Animated Feature," along with a BAFTA Award, seven Annie Awards, and 20+ Best Animated Feature awards by various critics' groups including the coveted Broadcast Film Critics Association and Los Angeles and New York critic groups.
Miller and Lord are also behind the hugely successful Lego Movie franchise. In 2014, Miller and Lord wrote and directed The Lego Movie, which debuted at #1 and remained on top of the box office for four straight weeks. The film earned over $469 million worldwide and was the 5th highest-grossing domestic feature of 2014. It earned the pair rave reviews for their imaginative and unique sensibilities, as well as the BAFTA, PGA, and BFCA Critics Choice Awards for "Best Animated Feature,"  the National Board of Review Award for "Best Original Screenplay," and The Annie Award for "Outstanding Achievement in Writing for an Animated Feature."
The Lego Movie was also nominated for a Golden Globe Award for "Best Animated Film" and was named one of the top ten films of 2014 on over 75 critics' lists. The film inspired two spinoffs, The Lego Ninjago Movie, and The Lego Batman Movie, which each opened in 2017 to rave reviews, and great box office and critic success. In 2018, the pair wrote and produced the sequel to the massively successful franchise, The Lego Movie 2.
Miller and Lord also directed 21 and 22 Jump Street, which earned a combined $531 million at the worldwide box office and earned the pair praise for their innate ability to transform unlikely material into cinematic brilliance.
The duo's first feature was 2009's Cloudy with a Chance of Meatballs, which they wrote and directed. The film was loosely based on the beloved children's book of the same name and earned both Miller and Lord a Golden Globe and Critics Choice nomination for "Best Animated Feature" along with four Annie Award nominations for excellence in animation, including "Best Direction" and "Best Screenplay."
Next up on the features side, Miller and Lord have several projects in various stages of development including the live-action feature tent-pole The Last Human for Sony, Fox's Artemis based on the novel by Andy Weir, and Project Hail Mary, an adaptation of Weir's forthcoming novel, starring Ryan Gosling for MGM.
They are in post-production on four features including Universal's Cocaine Bear with Elizabeth Banks directing, and Strays starring Will Ferrell, Jaime Foxx, and Will Forte, Los Frikis, financed by New Slate and directed by Mike Schwarz and Tyler Nilson, and the animated Spider-Man: Across the Spiderverse (Part One) which is set for release this year from Sony.
Other projects in development for the pair include a feature adaptation of Michael Lewis' best selling novel The Premonition: A Pandemic Story, Everyday Parenting Tips starring Ryan Reynolds which is based on Simon Rich's New Yorker short story, and 48 Hours in Vegas about Dennis Rodman's legendary trip to Las Vegas during the Chicago Bulls' 1998 NBA finals.
On the television side, Miller most recently created, directed, and served as showrunner on all eight episodes of the hit Apple TV series The Afterparty. The series centers on a murder mystery at a high school reunion, with each episode featuring a different character's perspective on the same story along with a unique visual style. It debuted in February 2022 and has already been renewed for a second season.
Additionally, Miller is writing and executive producing along with Lord, a modern refresh of his critically-acclaimed animated comedy series Clone High. The new series will debut on HBO Max and is based on the original Clone High series that Miller and Lord created with Bill Lawrence.
Miller recently served as an executive producer and has writing credit on the animated comedy series Bless the Harts, which aired on Fox from 2019-2021. He is also developing a slate of live-action and animated series in both comedy and drama, including a suite of television series based on Sony's Marvel Characters.
In 2015 Miller and Lord were behind the successful Fox comedy series, The Last Man on Earth, from actor and creator Will Forte. Lord & Miller directed the first two episodes of The Last Man on Earth, for which they received a Primetime Emmy Award nomination. The pair also directed the pilot episode of the breakout hit Brooklyn Nine-Nine and served as co-executive producers on the successful CBS sitcom How I Met Your Mother.
Miller is a native of Lake Stevens, Washington. He left there to attend Dartmouth College, where he found a lifelong friend in Phil Lord while obtaining a degree in government and studio art: three achievements, two of which are useful to his career.
All Sessions By Chris Miller
A Conversation with Dan Lin and Chris Miller
Saturday, June 11, 2022
3:30 PM - 4:30 PM